Sea Sound Cottage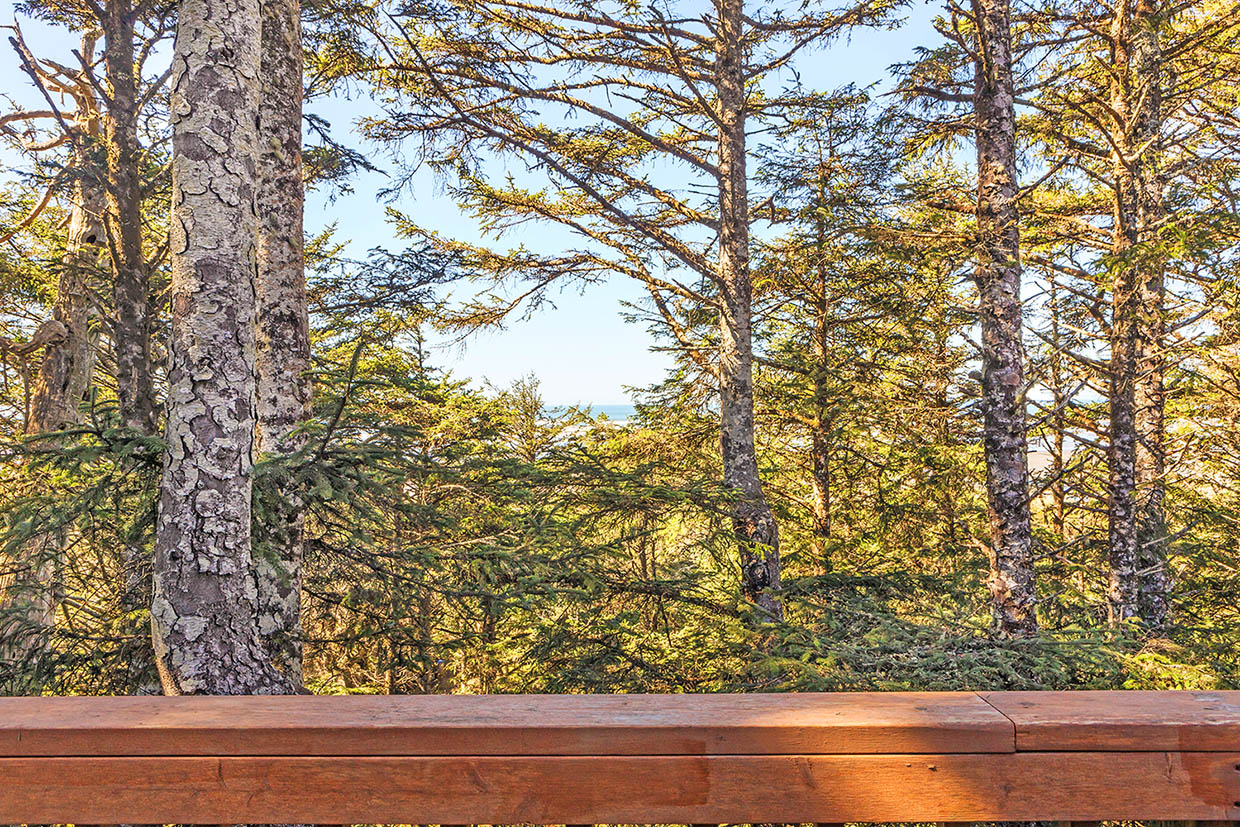 This cabin was love at first sight. It is not a giant mansion or a castle. It is not a high-tech modern villa.
Instead, Sea Sound Cottage is a cute, cozy, camp-like location on a bluff just East of the Moclips beach. A true cottage in the perfect place for a true cottage. And if you like to dig Razor Clams, you will be in seafood heaven.
Sea Sound Cottage
Much of the home has been updated and then furnished with comfortable furniture, new beds and bedding and everything to make it homier than any old mansion or castle.
The kitchen has the pots, pans, knives, refrigerator, freezer, stove and oven, toaster and pretty much everything you need. Enough for a week or weekend stay. Of course, plates and silverware too. Paper products are supplied.
There is a television and the internet if you really must spend time staring at a screen. But perhaps the children will prefer to walk to the beach (you do have to walk or drive). There everyone can jump the waves, search for shells or just stroll up and down looking for whatever the sea brings in.
What Guests Have to Say
"The place was great, gorgeous view, constant sound of crashing waves, well stocked and would recommend it to others."
- Beth
"Cute little cabin with a nice view!"
- Sasha
"Good place to stay if you are interested in checking out the area and hiking around."
- Hannah
More About Sea Sound Cottage
Sea Sound Cottage is affordable, and that is not just a slogan. Families with kids can afford to stay for longer periods or bring their pals along too.
Children will not feel pampered in a cottage, but they will see the wonder being so close to the trees on the western side of the house. There is a peek-a-boo view, so you may want to spend hours just sitting on the deck listening to the sea sounds.
What if you want to do more things? Nearby is the gourmet Ocean Crest restaurant, or you can drive to Seabrook for food.
Venture further south to the bustling village of Ocean Shores, where you will find yet more food, horseback riding, bowling, scooters, gift shops, book stores and more.
For the adults, yes, there are some fun pubs and night light. Plus, a Casino operated by our neighbors, the Quinault Indian Nation. You can spend all that money you saved by renting the affordable Sea Sound cottage!
But after all the fun, after seeing all the sights, it is fair to say you will appreciate the quiet, romantic sea sound cottage. You may be even more delighted to arrived back at the comfortable, cozy and romantic cottage, where you can doze off listening to the Sea Sounds.
/
About Moclips
Booking one of our properties in Moclips? In this little community, you'll find an array of seaside activities for you and your friends/family to venture into.
Fly a kite in a contest, build a sand sculpture or go sea kayaking. Numerous nearby state parks are perfect for hiking, surfing or just an afternoon stroll along the beach.
During the spring and summer, you'll be able to bird-watch or go crabbing. If it's warm enough, take a surfing lesson or go fishing so you can catch something for dinner later!
Visiting us during the colder months is perfectly okay too. There are beachside restaurants and museums between Moclips and Ocean Shores that will keep you busy while still being able to enjoy those stunning views.
The By The Sea, By The Sea Promise
By The Sea, By The Sea is the only full-stack vacation rental management company in the area. We vow to make booking with us simple and exciting. While others know their way around it, we know that booking a rental property home for your vacation can be unfamiliar territory for some. Because we know this, we ensure that each of our properties is up to high-quality standards.
We do our absolute best to provide support to our guests when booking.
We are available to assist you every day of the year if you have any questions or concerns before, during or after your visit to our home. We have onsite property management available 24/7 for anything concerning that may arise.
Balcony
All Dogs Allowed
Pet Friendly Property
Starry Starry Nights
Satellite TV
Bird Flyways
Beach Combing
High Speed Wireless Internet
Name: Sea Sound Cottage
Status: Active
Rating:
Type: Cabin
Country: United States
State: Washington State
Destination: Ocean Shores
Location: Moclips Beach
Setting: Water Front Area
View: Peekaboo Beach View
Internet: Yes
Sq. Ft: 624
Floors: 2
Entrance Floor: 1
Bedrooms: 2
Beds: FTTL
Bunks: Yes
Baths: 1
Normal Occupancy: 4
Sleeps: 6
Max Occupancy: 6
Parking: 1
Pets: Dogs
Checkin: 05:00 pm or later
Checkout: 11:00 am or earlier
Website: SeaSoundCottage.com
Manager: By the Sea Vacation Rentals
BED CODES: K=King, Q=Queen, F=Full, T=Twin, C=Futon Couch, M=Mattress, A=Air Mattress, L=Sleeper, S=Sofa, U=Trundle Bed, D=Day Bed