Copalis Rock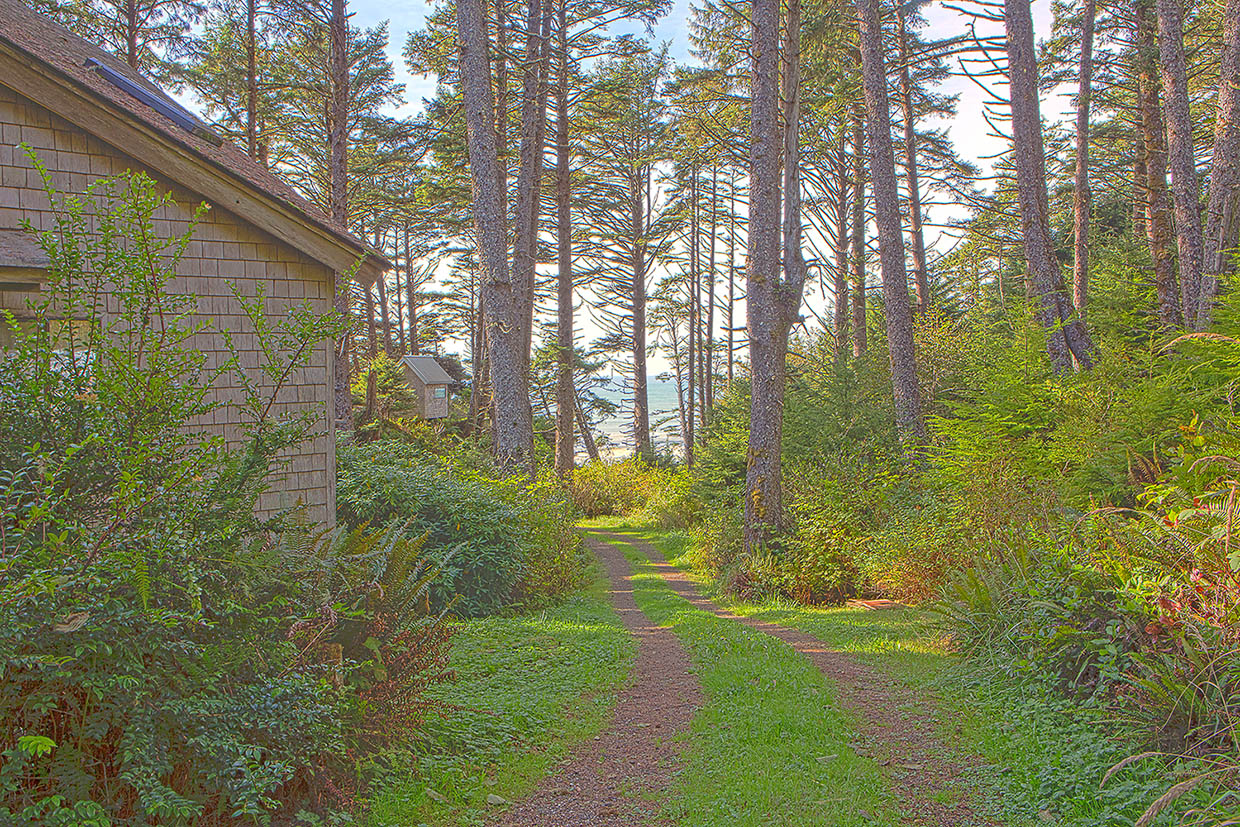 If you want a luxury villa with a concierge, a restaurant & bar, Copalis Rock house won't be for you.
But, if you are looking for a rustic cabin tucked into the woods, with few neighbors, this is your place.The home is off the main north-south beach highway, down a narrow road and surrounded by big shady trees. There are a few neighbors, but plenty of birds and even a few raccoons.
Copalis Rock
The living room has big windows where you can get a glimpse of the ocean from the balcony. The forest and ocean smells will flood your senses.
Copalis Rock sleeps six people with two queen beds and two twin beds. The loft is open to both bedrooms on the second floor. The loft provides a wide view of all the scenery.
It has a full kitchen with pots, pans, and enough dishes to make a good meal.
The home has been renovated and added onto over the years to provide more space including the deck, storage, and two full bathrooms.
There is a path down to the beach where you will find few people and lots of sand littered with plenty of sand dollars (if these were real dollars, you'd strike it rich). There you can see the "Copalis Rock" itself from which comes the cabin name.
What Guests Have to Say
"I don't come to Copalis Rock for bells and whistles. I come to get really really away. I love it."
- Rosemary
"Summer is great, but we like winter best. No one is around."
- Jeff & Trina
More About Copalis Rock
Copalis Rock is not off the grid, but it does have its remote charm. The rough-hewn exterior is unpainted and left gray to blend in with the surroundings. Vegetation around the house is also natural and wild.
On a chilly winter day, you can light up the wood stove, read a book and pretend you are the only person in the world.
On a warm sunny day (Yes, there are some), you can throw open the windows and smell the evergreen trees and salty fresh air.
The colorful floats you see in the photos were found on the beach just down the hill. With luck, you might find some to take home with you.
For those who want to get away in a rustic getaway home, Copalis Rock is the place. But don't expect a four-star resort. Do expect to rest and relax among a beautiful scenery including towering old growth trees as well as the beach front.
The home is located about 10 miles north of Ocean Shores, Washington. If you must have creature comforts, this is where you get them. Restaurants, shops, and activities are all abundant here!
About Copalis Beach
When booking with any of our properties in Copalis Beach, you will have endless options for seaside activities. When bringing your friends or family along, we're sure that each and every one of you will find an adventure worth diving into.
Copalis Beach is a coast side community. Here the Copalis River meets the sea and it invites you to explore the wonderful seaside adventures.
Visiting during the warm weather? Get ready for the best time of year around here!
The warmer days means you can go fishing, beachcombing and walk the scenic beach hiking trails.
Want to head to the beach during Winter too? That's not a problem! The views are just as beautiful and it's still a great getaway from your every day life.
The By the Sea, By the Sea Promise
Here at By The Sea, By The Sea Vacation Rentals, we vow to make booking with us simple and exciting. We know that booking a rental property home for your vacation can be unfamiliar territory for some, while others know their way around it. Because we know this, we ensure that each of our properties are up to high quality standards.
We do our absolute best to provide support to our guests when booking.
We are available to assist you every day of the year if you have any questions or concerns before, during or after your visit to our home. We have onsite property management that are available 24/7 for anything concerning that may arise.
Balcony
Full Beach View
Partial Beach View
Starry Starry Nights
Hiking Trails
Bird Flyways
Scooter Rentals
Walking Paths
Freshwater Fishing
Saltwater Fishing
Name: Copalis Rock
Status: Active
Rating:
Type: Cabin
Country: United States
State: Washington State
Destination: Ocean Shores
Location: Copalis Beach
Community: Copalis Rocks Community
Setting: Water Front Area
View: Partial Beach View
Internet: Yes
Sq. Ft: 1,419
Floors: 2
Entrance Floor: 1
Bedrooms: 3
Beds: QQTT
Baths: 2
Normal Occupancy: 6
Sleeps: 6
Max Occupancy: 8
Parking: 2
Pets: None
Checkin: 05:00 pm or later
Checkout: 11:00 am or earlier
Website: CopalisRock.com
Manager: By the Sea Vacation Rentals
BED CODES: K=King, Q=Queen, F=Full, T=Twin, C=Futon Couch, M=Mattress, A=Air Mattress, L=Sleeper, S=Sofa, U=Trundle Bed, D=Day Bed